GBLS Advocates Assist Wrongfully-Convicted Elder With New Life after Release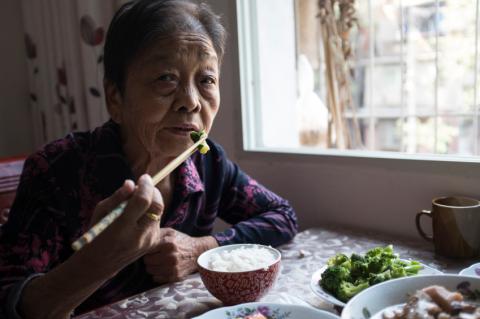 Ms. "Chen" was in her 60s when she was forced to work as a housekeeper and cook in a Waltham, Mass. brothel, prevented from leaving, and ended up wrongfully convicted of keeping a house of prostitution and profiting from prostitution.  She was sentenced to 6 months in jail.  After her release, she could not find work or housing because of her criminal record.  She returned to China, where her grown children did not believe her story and would not let her live with them.  She became a social outcast, humilated and ashamed.  U.S. Immigration and Customs Enforcement (ICE) tracked her down and asked her to help them prosecute the actual criminals who had been charged with human trafficking.  Ms. Chen returned to Boston and testified in the case.  The criminals responsible for trafficking were convicted because of her testimony.
She then found out she was eligible for the U Visa that protects victims of crimes who have suffered substantial mental or physical abuse due to the crime and are willing to help law enforcement authorities in the investigation or prosecution of the criminal activity.  She needed help applying and understanding her rights.  She sought that help from GBLS.  She was referred to GBLS by our community partner, the Asian Task Force Against Domestic Violence.
Ms. Chen told Asian Outreach Project (AOP) advocates that her story began in California in July 2005, when she answered an ad for a nanny position in the Boston area, promising her $1,500 per month to look after a child.  "Ms. Liang" picked her up from Logan airport and drove her to a house.  Ms. Chen did not know what town she was in and did not speak any English.
The house was a brothel in which Ms. Liang and "the boss" forced Ms. Chen to work as a servant, threatening her if she did not obey or tried to leave.  Ms. Liang withheld food from her. Ms. Chen was not paid any wages.  Once when Ms. Chen argued with Ms. Liang about being allowed to leave, Ms. Liang hit her with a hot metal spatula.  Ms. Chen was forced to work as a housekeeper for 10 days, until the police raided the brothel and arrested her.  The police did not listen to her when she tried to tell them (in her limited English) the reality of the situation, leading to her wrongful conviction.
In addition to helping her apply for a U visa, AOP advocates were successful in obtaining work authorization and permanent public housing for Ms. Chen (who had been living in shelters for domestic violence victims).  AOP advocates also got furniture donations for Ms. Chen and helped her move into her new home.  They helped her apply for public benefits and applied for a visa for her husband to join her in the United States. Ms. Chen says, "This has helped me tremendously."