Welfare: Preserving an Income Safety Net and Assisting the Transition to Work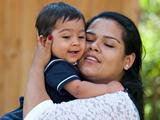 A native of Peru, Joanna came to the United States to marry her fiancé, an American citizen. Unfortunately, soon after the marriage, her husband became physically and emotionally abusive, forcing Joanna and her son to flee. After escaping the violence, she was diagnosed with a degenerative eye…
Through a combination of direct services and systemic advocacy, the Welfare Law Unit seeks economic stability for its clients by ensuring access to financial assistance, nutritional benefits, child care, and other benefits administered by the Massachusetts welfare agency.  We seek to ensure that our clients are provided with due process, including adequate notice of decisions, timely decisions on requests for assistance, and timely receipt of benefits.  We also seek to use all available strategies to press for a better system. 
The majority of our clients are individuals and families who depend on public assistance to survive.  Many of our clients with a longer term need for assistance have multiple, severe barriers to employment.  Barriers include the impact of trauma and abuse, severe physical and/or mental health conditions (sometimes undiagnosed), learning disabilities, children with serious health problems, homelessness or housing insecurity, unhealthy and unsafe housing or neighborhood conditions, low educational attainment, low reading or math skills, illiteracy, and limited English proficiency.  As an example of the prevalence of such barriers, studies show that about eighty percent of the mothers in families receiving assistance have experienced domestic violence.
Direct Client Services
The Welfare Law Unit provides legal representation to low-income individuals and families to gain and keep access to subsistence benefits, including the TAFDC cash assistance program for families with children, the EAEDC cash assistance program for disabled individuals and some others, the Food Stamp program, and related benefits such as child care and education and training programs. 
Our major priorities for direct client services include:
Representing individuals and families who have been wrongfully denied or cut off from cash assistance, nutritional assistance, or related benefits, such as child care.
Improving access for individuals with disabilities who need help navigating the welfare agency in order to get benefits, and helping individuals request accommodations.
Enforcing the rights of immigrants, who are often erroneously denied benefits due to complex non-citizen eligibility rules, to ensure that eligible individuals and families receive the benefits to which they are entitled.
Advancing the rights of individuals with limited English proficiency (LEP) to ensure that interpreters are provided as required by law and that LEP status does not result in erroneous benefit determinations.
Providing representation to domestic violence survivors to ensure that they receive available protections and rule waivers related to domestic violence.
Providing advice to homeless families regarding the range of available benefits and rights regarding education and training; and representation when needed to secure benefits.
Read more about the direct client services provided by the Welfare Law Unit.
Community Partnerships
The Welfare Law Unit works with organizations that serve our client population.  We provide information and training on public benefits, and we have set up systems for direct referral of cases from Boston homeless family shelter providers and education and training providers.
Read more about the Welfare Law Unit's community partnerships.
Impact Advocacy
Our representation of individual clients gives us a unique understanding of the workings of the welfare system and the realities of our clients' lives, which we use to advocate for changes in policy and practice that reduce systemic barriers to access to public benefits.  We use all available tools, including litigation, state and federal policy advocacy, and legislative advocacy