Consumer Rights Advocacy and Community Education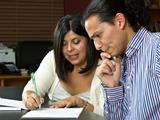 Countless articles and reports over the past few years have detailed the predatory lending by some mortgage brokers at the height of the housing boom. One recent case involves "Andrea" and her brother "Raymond." Raymond and Andrea, siblings from El Salvador entered into a $500,000 adjustable rate…
The mission of the Consumer Rights Unit is to represent and advocate on behalf of low income clients who are facing consumer problems. The Consumer Rights Unit was initiated in the fall of 2007 with one attorney. Just as the Consumer Rights Unit was being established the foreclosure crisis began seriously impacting low-income homeowners and their tenants. As a result of the devastating impact of the foreclosure crisis on low-income homeowners and communities of color, the Consumer Rights Unit has primarily focused on issues related to the foreclosure crisis. We have engaged in legal work and advocacy aimed at preventing foreclosures, keeping low-income homeowners in their homes, and systemic challenges to predatory and discriminatory lending practices including legislative reform .
Direct Client Services
The Consumer Rights Unit offers legal assistance to low-income individuals and families who are facing foreclosure due to the current sub-prime mortgage crisis. Our work includes:
representing homeowners who are facing foreclosure and have potential legal defenses
representing homeowners who have the financial ability to make mortgage payments if their principal or interest payments were reduced, by obtaining loan modifications through the Home Affordable Modification Program (HAMP) or other alternative modification programs
providing homeowners facing foreclosure, and homeowners with high cost loans, with advice and brief service, along with referrals to housing counseling agencies, updated information on the various refinancing programs available to them, and updated information concerning their legal rights and remedies, including bankruptcy
engaging in community outreach and education activities to assist low-income homeowners in identifying predatory lending practices and providing information on their legal rights and remedies as well as information about various loan refinancing and modification programs.
Read more about Consumer Rights direct client services.
Community Partnerships
The Consumer Unit is a founding member of the MA Alliance Against Predatory Lending (MAAPL), a coalition of over 30 community organizations, housing counseling agencies, legal services groups and others who have come together to work on the sub-prime  foreclosure crisis in Massachusetts, including City Life/Vida Urbana, Boston Tenant Coalition and ACORN.  The Alliance focuses its work on the following areas:
Legislative initiatives, including, judicial foreclosure; just cause eviction post-foreclosure; a foreclosure moratorium; and other pre and post foreclosure protections for tenants and homeowners.
Organizing to prevent eviction of tenants and resident homeowners that are paying their rents in foreclosed properties
Providing education to homeowners and tenants regarding their rights, as well as educating the general public education regarding the predatory lending  and discriminatory practices of lenders and financial institutions.
Working to ensure that foreclosed properties can be acquired as affordable housing by non-profits and other entities.
We work with community organizations and other legal services attorneys to identify issues that are ripe for impact litigation.
Read more about consumer rights community partnerships.
Consumer Rights Impact Advocacy
The Consumer Unit focuses on impact litigation that can result in systemic changes that will benefit large numbers of low-income homeowners. We review individual cases to identify issues that might be appropriate for impact litigation around abusive, predatory and/or discriminatory lending practices, We coordinate such impact litigation with groups like the National Consumer Law Center and other local and national groups. We work with community organizations and other legal services attorneys to identify issues that are ripe for impact litigation.