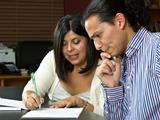 Countless articles and reports over the past few years have detailed the predatory lending by some mortgage brokers at the height of the housing boom. One recent case involves "Andrea" and her brother "Raymond." Raymond and Andrea, siblings from El Salvador entered into a $500,000 adjustable rate…
The Consumer Rights Unit ("CRU") helps people with legal problems related to money and unfair business practices. Our services are free for low-income and older people in Greater Boston. 
The CRU began in 2007 with one attorney helping homeowners avoid foreclosure. We now work on a range of issues and advocate for stronger consumer protection laws.
Direct Services
Debt Collection  
The CRU helps clients with debt collection issues enforce their rights. We also make sure debt collectors follow the law. 
Lawyer-for-the-Day Clinic: We help individual defendants in small claims cases who are being sued by companies. We can help you at court if your case is in Charlestown (Thursdays), Chelsea (Wednesdays), East Boston (Tuesdays), or Roxbury (Wednesdays). In a different court? Contact us at 617-603-1671 or consumer-intake@gbls.org for advice.
Mortgages & Foreclosure 
We help clients facing foreclosure determine and assert legal defenses. We also refer clients to housing counselors.  
Bankruptcy 
Filing for bankruptcy can be a fresh start—but it's not the best choice for everyone. Our attorneys help clients decide if Chapter 7 or Chapter 13 bankruptcy is right for them. We then guide them through the process. 
Scams, Fraud, & Economic Abuse 
We advocate for victims of scams, fraud, and economic abuse. We help these clients file reports with financial institutions and government agencies and go to court if necessary. We also assist with related debt and credit reporting issues. 
Student Loans 
We advocate for people who were taken advantage of by their school or cannot pay their student loan debt due to a disability.  
Wage Garnishment  
"Wage garnishment" is when a court orders your employer to withhold part of your paycheck to pay a debt. We assist people with garnished wages understand and enforce their rights.   
Read more about client victories.
Community Partnerships
The CRU collaborates with community partners to share information on consumer rights and reach people who need our services. These partnerships help us understand what our clients care about and how we can best help them.  
Read more about community outreach.
Impact Advocacy
The CRU collaborates with community groups and public-interest law organizations to identify cases that will create widespread, positive changes. We also advocate for policies benefiting consumers in Massachusetts and the United States.  
Read more about impact advocacy.
For Consumer Rights help, please call 617-603-1671