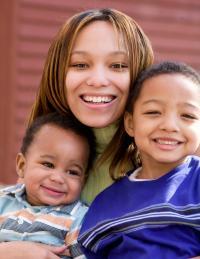 "Mary" is a client who was severely physically and verbally abused by her partner "Ralph". When Mary suffered from post-partum depression after the birth of their son "Sam", Ralph convinced Mary to sign over custody of Sam. He then proceeded to throw Mary and her older son out of the house. Ralph…
Domestic violence and family dissolution are two of the main causes of poverty. The mission of the Family Law Unit is to provide legal assistance and representation to low-income victims of domestic violence to restore them and their children to an economically sustainable life free of abuse.
We also address broader legal and public policy issues that perpetuate domestic violence and obstruct the road towards physical and emotional well-being and economic independence for people who have experienced domestic violence.
Direct Client Services
Our clients who are trying to break free of domestic violence are often burdened with barriers like limited English proficiency or mental health problems stemming from a history of abuse that make it difficult for them to advocate effectively on their own behalf. Our services help them find success in the legal system.
People who experience domestic violence and their children face considerable safety risks when breaking free from abusive relationships. While court orders can ultimately provide the necessary support a victim and their children need to break free from an abuser, the court process can initially compound the safety risks to the victim. The abuser's anger may become inflamed because the abuse has been made public, or because the abuser has been ordered to pay child support or been limited in their ability to see their estranged partner or children.
The attorneys and paralegals in the Family Law Unit represent victims at this volatile time to ensure that their rights and their safety are protected. Our work includes:
individual representation in divorce and paternity actions, and obtaining child support, custody, visitation and restraining orders
legal counseling to victims/survivors who seek to relocate due to family violence
on-site advocacy at two probate and family courts to assist victims with abuse prevention orders and emergency matters.
Read more about our direct client services.
Community Partnerships
The Family Law Unit has a number of relationships with area courts, hospitals and community organizations to facilitate outreach to victims of domestic violence.
Read more about our community partnerships.
Impact Advocacy
The Family Law Unit of GBLS addresses broader legal and societal issues for all victims of domestic violence by providing representation in the appeals court and being a voice for victims/survivors in legislative and administrative matters.