GBLS Helps Family Repurchase Unlawfully Foreclosed Home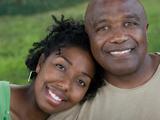 With the assistance of Greater Boston Legal Services and two non-profit partners, "Taylor Brown" and his daughter "Lisa" successfully got their Dorchester three-family home back after undergoing two unlawful foreclosures.
In response to the foreclosure crisis, GBLS along with other legal services groups in Boston and nonprofits City Life/Vida Urbana (CLVU) and Boston Community Capital (BCC), developed the Foreclosure Purchase Project to help residents of foreclosed buildings repurchase their homes at the present value.  CLVU is a community organization working to stop evictions of tenants and former owners after foreclosure, and BCC is a non-profit bank which raises capital to buy foreclosed buildings and provide financing to former owners or tenants to buy back their homes.
With the project's help, the Brown family were able to repurchase their Dorchester three-family home for half its original price. The Browns were able to:
defend their eviction;
know their rights; and
get a loan using an innovative non-profit program.
As Mr. Brown said when GBLS and other project staff met with him to take the picture above and to tour the improvements he has made to his home, "You are welcome any time. You got my house back!"