GBLS Helps a Mother Regain Physical Custody of Her Son from Her Abusive Partner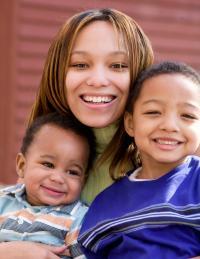 "Mary" is a client who was severely physically and verbally abused by her partner "Ralph". When Mary suffered from post-partum depression after the birth of their son "Sam", Ralph convinced Mary to sign over custody of Sam. He then proceeded to throw Mary and her older son out of the house. Ralph went on to use Sam as a way to control Mary. If Mary "behaved" by doing what Ralph demanded, she could live in the house and take care of Sam. If she did not, Ralph would use the custody order to prevent Mary from seeing Sam. 
Over time, Mary realized that Sam was not progressing and his pediatrician thought Sam should be evaluated. Ralph did not believe his child had any problems and refused to agree.
Mary convinced Ralph to go the doctor's office with her and Sam. Unfortunately, Ralph had been drinking since early that day. While driving home, they argued about Sam's needs. Ralph became so infuriated, he became violent and began beating Mary. When they arrived at Ralph's house and got inside, in front of Sam the violence continued. When Mary tried to leave, Ralph told her that if she left, he would kill her and her older son. Mary fled to the pizza parlor across the street, where someone saw the condition of her face and called the police, who arrested Ralph.  
Mary had enough and filed to regain physical custody of Sam.  Ralph, in turn, filed for full custody. That is when Mary turned to GBLS for help. Family Law attorney Patricia Levesh represented Mary in a highly-contested custody case.  Mary gained what she wanted: physical custody of Sam, a fixed visitation schedule, child support, and she and Ralph having joint legal custody. Since then, Mary and Ralph have been able to co-parent and cooperate with the Massachusetts Department of Children and Families and medical providers for the benefit of Sam.
" … I wanted to thank you from the bottom of my heart. Pat I want you to know I will be forever grateful for all your help in that extremely horrible time in my life. You helped me to gain my self-respect and independence. I am so proud to have known you and so happy with the positive changes in my life. I did not squander the opportunity and effort put forth by you for me and have built a wonderful life and am very happy."