Joanna's Honest Mistake Led to Harsh Punishment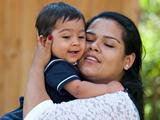 A native of Peru, Joanna came to the United States to marry her fiancé, an American citizen. Unfortunately, soon after the marriage, her husband became physically and emotionally abusive, forcing Joanna and her son to flee. After escaping the violence, she was diagnosed with a degenerative eye disease that will ultimately result in blindness. However, despite all the adversity she was facing, Joanna was determined to work and support her child.
One day at work in a Chelsea supermarket, Joanna mistakenly mislabeled one of the food items because of her sight problem. The mistake resulted in a 25 cent discount on the item. For this error, Joanna was fired for "stealing from the company". The company attempted to deny Joanna her unemployment insurance (UI), so the Division of Unemployment Assistance (DUA) sent her a notice in English informing her that she needed to come to a hearing to recover her UI.
Joanna is able to read in Spanish, despite her limited vision, but she does not know how to read English. She looked for a friend to translate the notice. By the time she found one, she learned that the hearing on her UI was just two days away. Her friend urged her to contact GBLS, and an Employment Unit attorney took the case. The attorney requested a postponement, which DUA denied. The GBLS attorney filed an emergency order in court, after which DUA agreed to postpone the hearing. After the hearing, the DUA Review Examiner upheld the award of UI benefits.
GBLS works to manage to comprehensive needs of its clients by encouraging collaboration between practice units. Joanna's attorney was successful in getting her Medicaid upgraded from basic to standard due to the abuse she suffered. Immigration Unit attorneys were able to get her a green card—her application had been bogged down in bureaucracy for more than a year. The Welfare Unit, with the assistance of the social work program, was able to arrange for Joanna to be seen by the Mass Eye and Ear Infirmary, assisted her in securing food stamps, and helped her find new employment.
Because of Joanna's courage to stand up for her rights, many non-English speaking unemployment applicants will benefit.