Fall 2018 Newsletter
This week is pro bono week, when the legal profession takes a moment to recognize the hard work and generous contributions of time and hard-earned skill attorneys in the private bar dedicate to non-profit work.
We at GBLS are grateful not only to be the recipients of such skilled and dedicated legal assistance from our partners in the private bar, but to find in our fellow attorneys collegiality, dedication, and respect for the clients GBLS serves.
Thank you to everyone who has lent their expertise to help our clients, and to everyone who supports legal aid. Your generosity changes lives!
GBLS' Newest Managing Attorney Comes Home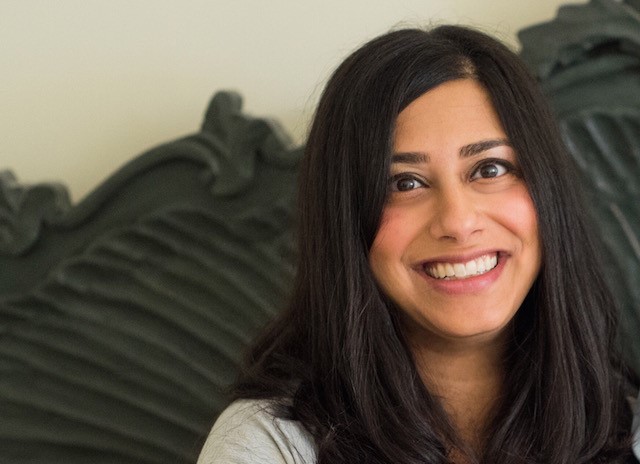 Radhika Bhattacharya has big shoes to fill – and a couple of pairs of them. As the new Managing Attorney of GBLS' Elder, Health, and Disability Unit, Radhika replaces two interim co-Managing Attorneys, Taramattie Doucette and Nancy Lorenz, both of whom have resumed their regular client case load after overseeing one of GBLS' largest legal departments for over a year. Fortunately, Radhika, who started in the role in July, is up for the challenge, with a breadth of legal experience and some special qualifications of her own.
Radhika's first experience with GBLS was as a legal intern in summer 2006 for the Employment Law Unit. After graduating from Boston University School of Law, Radhika returned to GBLS as a deferred associate from Goodwin Procter, representing unemployed workers in unemployment, workplace harassment, and claims under the Family and Medical Leave Act (FMLA), as well as helping with the paid sick leave campaign. Back at Goodwin, Radhika focused on IP law and took on numerous pro bono assignments, including representing a prisoner seeking DNA testing in collaboration with the New England Innocence Project and representing a public housing resident in a transfer proceeding. Since 2012, Radhika has worked at the Executive Office of Health and Human Services, most recently as deputy general counsel, where she managed MassHealth's program integrity legal unit dealing with litigation, Affordable Care Act implementation, and combating provider fraud.
We sat down with GBLS' newest Managing Attorney to get her thoughts on what it means to be back at GBLS for a third time, her new team, and her vision for the future.
GBLS: This is your third stint at GBLS. You interned here during law school, and came back as a deferred associate from Goodwin in 2009 – 2010. What is it like being back again?
RB: I am so excited to return to GBLS - it feels like coming home. Getting to walk in and see familiar faces feels like returning to family. Even the color of the building gives me a sense of nostalgia. It sort of feels like a dream that I have been given this second chance to be here and I feel very lucky.
GBLS: Why GBLS? What is it about the organization that speaks to you?
RB: GBLS is a wonderful place where we do important work, and I get a chance to learn and challenge the status quo every day. I feel like I am on the front lines of the fight against injustice, which is something I am passionate about. I am very grateful for the opportunity to engage in such rewarding work, alongside colleagues who have dedicated their lives to justice, working directly with clients, and advocating for those who need it most.
GBLS: You've inherited one of the most legally diverse departments at GBLS. Is there a common thread between all of the things your team is doing?
RB: Our work runs the gamut of the entire life cycle, from children facing obstacles in the form of disabilities or racial bias in schools, to elders facing issues accessing critical benefits or staying in their homes. I think the thing that unites all of these areas is access to things that should be basic rights in our society – health care, housing, and education. By enabling people to access these basic needs, we give them a chance to live with dignity, thrive, and perhaps break the cycle of poverty.
GBLS: What is your vision for the Elder, Health, and Disability Unit?
RB: Tara and Nancy have done amazing work to advance the goals of the unit and to help build a legacy and a mission for our team. I want to continue to build upon their work and the expertise within our unit and also leverage the energy and passion that we have as a team. I want to help us make a real difference to our individual clients and also promote systemic change. I hope to build upon the sense of community within our own unit and also identify opportunities for collaboration between GLBS' legal specialties to help our clients even more.
GBLS: How can outside volunteers and pro bono attorneys help your team?
RB: Pro bono attorneys can help us with anything from handling a disability case, to working on elder, health, or education issues. We offer training and support to the pro bono volunteers who work with us and already have some great volunteers helping us with everything from our Children's Disability Project to the School to Prison Pipeline Intervention Project.
Thank you, Radhika, and welcome home!
Immigrants Welcome Here
In September 2017, in response to the changing landscape of federal immigration policy and significant demand for legal help for immigrants, the City of Boston launched the Greater Boston Immigrant Defense Fund.  The Greater Boston Immigrant Defense Fund is a public-private partnership and funding collaborative that was created to strengthen Boston's capacity to protect and defend immigrant communities, refugees, and temporary status holders by increasing education and access to legal services. GBLS was honored to be chosen as a recipient of those emergency funds, which were granted in support of our Immigration Unit.
As Mayor Marty Walsh said at GBLS' 2018 Associates Fund Drive Thank You Ceremony, "We're seeing how fundamental a right to legal protection is on America's southern border right now. Victims of domestic violence are denied asylum status. Families are separated, with no plan to reunite them. In many cases, lawyers are their only hope. That's why last year, when we set up the Greater Boston Immigrant Defense Fund, GBLS is who we turned to."
Thanks to funding from the Greater Boston Immigrant Defense Fund and other dedicated contributors, GBLS closed over 1,500 immigration cases in 2017.
Pro bono attorneys provide substantial support to GBLS in immigration and other kinds of cases. For information on current pro bono opportunities at GBLS, please contact Melissa Gonzalez, Pro Bono Program Officer, at mgonzalez@gbls.org or (617) 603-1604.
Remembering Archie Southgate
(1929 – 2018)
by Bob Sable, Volunteer Attorney and former Executive Director of GBLS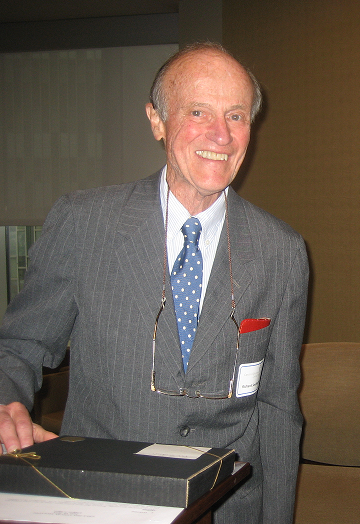 When Richard "Archie" Southgate was about to retire from Ropes & Gray, he asked me to meet him in his office.  To my surprise, he told me about his time at the Harvard Legal Aid Bureau as a law student and how he felt had "unfinished business."  Archie and his wife were about to go on a round-the-world trip to celebrate his retirement and after that, he said, he would like to volunteer at GBLS for a year.
With his typical combination of modesty and confidence, Archie said he would serve wherever he was most needed.  When Archie returned from his travels, he started volunteering at GBLS three days a week in the Employment Unit.  And what started as a one year commitment soon became three.  Archie brought all of his skills and years of experience in the law to representing GBLS' clients.  He treated them with the same dignity and advocated for them with the same zealousness as he had done for his major corporate clients throughout his career.
Archie quickly became a beloved colleague, known for hard work, drafting skills, rapport with clients, and his inevitable Burger King lunch. Archie had much to teach us, but we also had to teach him a few skills he never had to acquire at his large corporate law firm, such as faxing and Xeroxing his own documents.
Archie represented many individual clients, helping them obtain needed unemployment benefits after they had lost their jobs. But other managers and I quickly realized that Archie could help us, as well.  He became our consigliere.  Many times when we faced a tough strategic issue or a tough personnel issue we would go to Archie for his sage advice, and he never let us down.
Archie and I both hoped that other retiring lawyers would follow his example.  And having the former managing attorney of the largest firm in Boston as a volunteer gave a real boost to our Senior Lawyer program.  Archie spent many house at bar association meetings and workshops encouraging other to volunteer with legal aid.  He was successful and we have had a stream of outstanding retired attorneys at GBLS over the years, including several of Archie's former partners from Ropes & Gray.
When Archie finally "retired" from service at GBLS after three years to work on his Securities law book, we named our Volunteer of the Year award after Archie.  For many years, until he became ill, Archie attended our annual meetings and presented the Southgate award for outstanding volunteer service.
During that pre-retirement meeting at Ropes & Gray, Archie looked me in the eye and said: "Bob, when I come to GBLS, I want you to let me know if you think I am losing my fastball." In his years at GBLS, Archie's fastball was always blazing.  He was always a great lawyer, an advocate for equal justice in word and deed, a person of great integrity, and a wonderful colleague.  His passing is a loss to us all.
In Their Own Words: The GBLS Community Speaks
GBLS' attorneys and paralegals work tirelessly on behalf of our clients, fighting for their rights and their dignity. Much of their work goes unsung, but to the people they serve, they make a world of difference. Occasionally we hear from former clients about what they're up to now, and we celebrate with them when they get into college, or when they receive their citizenship, or we find out that they're stable and safe from a previously precarious situation. We received one such email recently that was shared around the program that we thought we would share with you – the people who help make our work possible.
Dear [Attorney],
We met this past Wednesday in [ ] court. I'd like to take the opportunity to Thank You personally and the entire GBLS for the tremendous act of service your organization provided to me and to many others.
I am no expert when it comes to the logistics of legality, however, individuals like you and colleagues of GBLS are. I can certainly attest to your pride and dedication you devote to your profession.
I cannot express any further how grateful I am for your help on Wednesday.
The amazing work you and your colleagues do for others is invaluable.
Again, I'm writing to say Thank You and I truly appreciate your assistance
Sincerely,
[Client]
Thanks to GBLS and a determined pro bono attorney in our Debt Collection Clinic, this client and her family are no longer burdened by threatening calls from illegitimate debtors.
From the GBLS attorney: "Although the approximately $3,500 debt we eliminated for this client may seem small to some, it was life-changing for her: a single mother who is working and attending school, doing her best to get back on her feet, who would have been saddled with a debt and a judgment on her credit report for years without help."
Thank you for being part of our community, and helping us do what we do.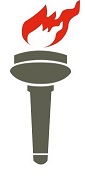 Greater Boston Legal Services provides free legal assistance in civil (noncriminal) matters to low-income families and individuals in the Greater Boston area, helping people access the basic necessities of life, including shelter, healthcare, and safety from abuse.
Please consider making a gift to GBLS to help make "justice for all" a reality for our most vulnerable neighbors. Thank you for supporting civil legal aid!