Fall 2021 Newsletter
November 2021
It seems fitting that in fall, the season of abundance, GBLS has welcomed many new staff, fellows, and board members to our ranks. It takes a big team to accomplish all that GBLS does, and we are glad to have the additional assistance and expertise on board, especially when our community is so urgently in need of civil legal aid to meet their basic needs. This is also the season of gratitude, and we are grateful for supporters like you. Please read on to learn more about what we're accomplishing with your help
Annual Meeting: Staff Recognition & Board Updates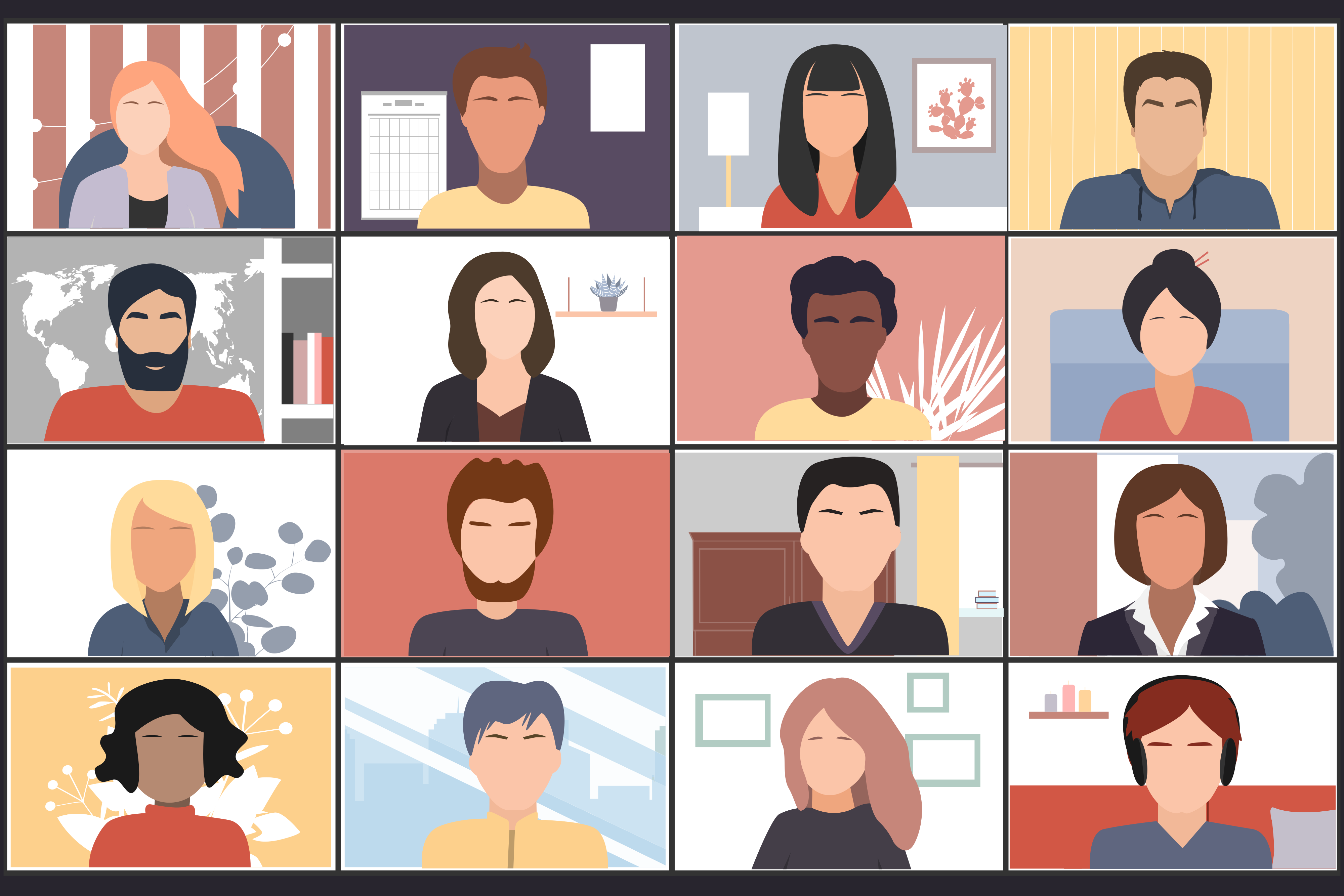 The Board of Directors and Corporation of Greater Boston Legal Services met virtually on September 22nd to conduct the organization's Annual Meeting. Attendees heard organizational updates from Bill Connolly, Board President, and Jacqui Bowman, Executive Director. The Awards Committee of the Board also recognized several individuals for their exemplary service to GBLS, including:
Alexa Rosenbloom, staff attorney in the Consumer Rights Unit, recipient of the Reginald Heber Smith Award, which recognizes a staff member with 10 years or less of service at GBLS for building community inside and outside of GLBS, innovation and excellence in legal work, and for bringing a fresh prospective to legal advocacy. 
Maria Fernandes, paralegal in the Welfare Law Unit, and David White, staff accountant in Administration, recipients of the Dow-Gardiner-Landrum Award, which honors staff and Board members with 10 years or more service at GBLS for their long-term commitment to legal aid and ensuring that low-income people have access to justice. 
Robert (Bob) Sable, former Executive Director and longtime volunteer attorney, recipient of the Southgate Award for outstanding volunteer service for his 10 years of work creating and assisting clients in the GBLS Bankruptcy Project.
The Board noted two staff service milestones: Karen Dobak, paralegal in the Elder, Health & Disability Unit, for 30 years with GBLS; and Deborah Filler, senior attorney in the CASLS office, for 35 years of service.
At the Annual Meeting, members of GBLS' Corporation elected the following new directors to the Board: Milagros Barreto, Drew DeVoogd, Daïna Estime, Gina Gombar, Lisa Owens, Amy Roy, Emily Sy, and Kate Wallace. The Board also thanked the following departing directors for their service on the board: Richard Batchelder, Allene Curry, Megan Gates, Ilana Gelfman, and Joleen Willis. We are grateful to our wonderful staff and board for their service to GBLS' mission and clients!
Fellowship Update: Dinah Jean Phillippe Joins GBLS as a Harmonix Fellow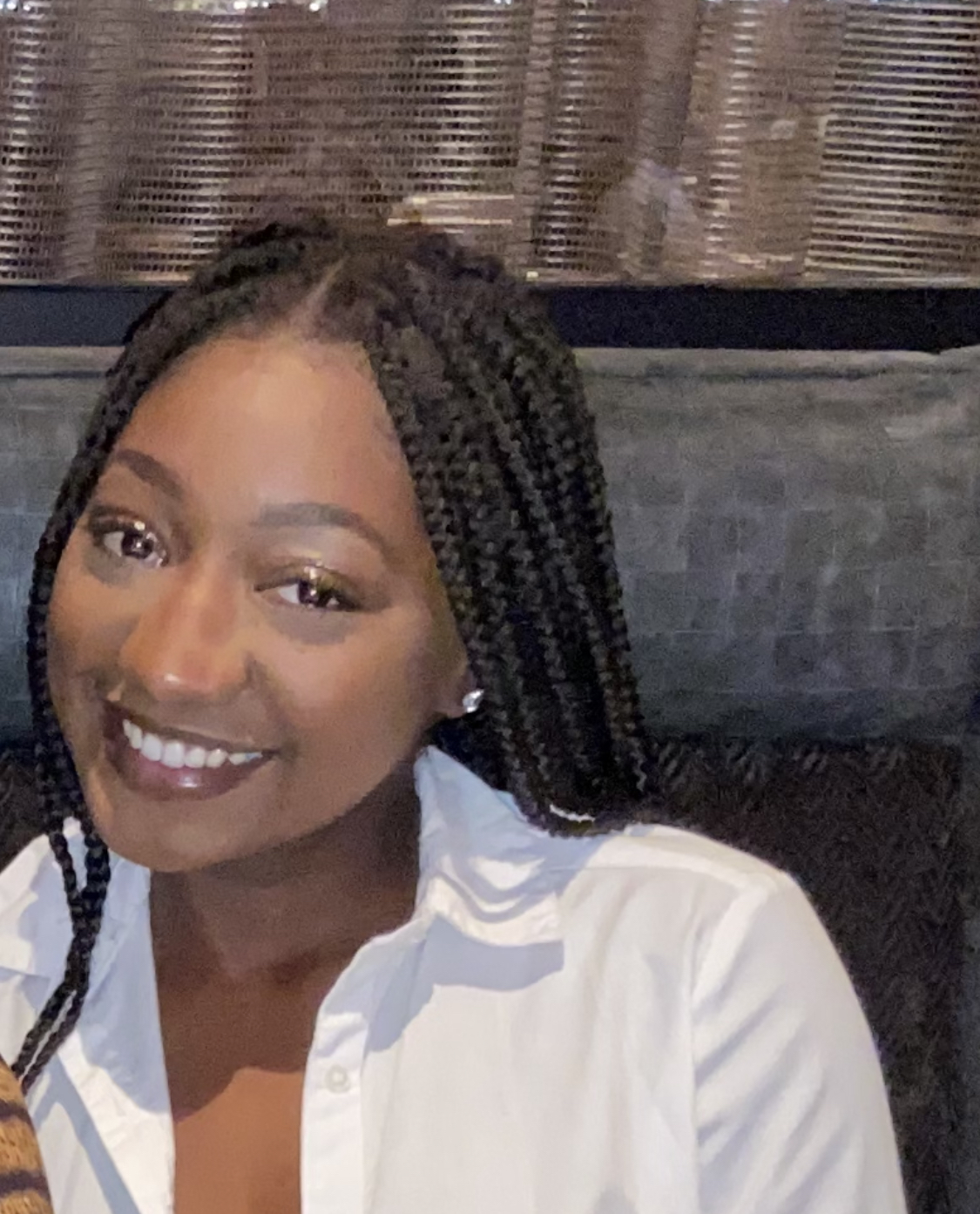 GBLS is thrilled to welcome Dinah Jean Phillipe as our newest Harmonix Stockholders Community Fellow – an exciting 2-year legal fellowship sponsored by former investors in Harmonix Music Systems, who created an endowed position at GBLS in 2013 to help support access to justice for all. Dinah is a Boston native, who recently completed law school in San Francisco. Her project is a part of GBLS' Children's Practice Group, centering on the well-being of children and families by working on individual cases and by community outreach. Dina's work will focus on access to subsidized childcare, care that is not only essential for working parents but also helps identify other needs and issues - educational needs, food insecurity, mental health issues.  We chatted with Dinah to learn more about her work.
GBLS: Your fellowship work represents a new project for GBLS, in one of our newest practice groups. How did you become interested in the work of the Children's Practice Group? 
Dinah Jean Phillipe: Working with children, parents, and families is my passion; it's the first job I ever held when I turned 16 years old, it was the last job I held prior to embarking on law school, and any practical experience I gained throughout law school had children involved in one way or another. I believe that legal aid for our youngest population is a great tool to begin tackling larger social issues, seeing as they serve as our next generation of leaders.  With my focus on aiding youth most neglected and most trauma-impacted, I found that the goals of the Children's Practice Group in achieving holistic advocacy for kiddos and families aligned directly with my passion. I know from working with GBLS previously how dedicated advocates are to the communities they serve, so I felt that CPG was the best place for me to engage in this work.  
GBLS: You're a new attorney, but it sounds like this work ties in with your past experiences. How has your prior work experience prepared you for this role? 
DJP: I've been lucky enough to gain professional and legal experience working with some of the most vulnerable populations, low-income students of color, youth exposed to abuse and neglect in the home, and survivors of sexual assault and domestic violence. In working with these communities, I've learned the importance of focusing on clients' stories and wishes in all facets of my work in order to render the best advocacy or services. This means believing in clients experiences and building trust, communicating with them in a trauma-informed way, and honoring their desires and decisions.  While in law school in San Francisco, I was a student advocate for USF Law Racial Justice Clinic, and intern at the East Bay Children's Law Office.  These skills and approaches I I learned during law school – including an internship at GBLS and one at the Suffolk County District Attorney's office in Boston have prepared me to be the most honest, thorough, and effective advocate possible for the children and families I plan to serve through this role.  
GBLS: You originally came to GBLS as summer intern in 2020, when we were almost completely working remotely. What are you looking forward to now that you're onboard as an Attorney Fellow? 
DJP: I'm looking forward to the in-office experience, connecting with colleagues, and getting back to more personal communication with clients. GBLS did an amazing job of making my summer internship feel valuable and worthwhile, despite experiencing it from behind a computer screen, but I'm excited to get back to building and strengthening connections in person!
GBLS: What do you see as the main challenges to your work? And what do you hope to accomplish? 
DJP: One of the main challenges I foresee in my role is not having the resources or capacity to serve all of the children and families I seek to outreach to and who so desperately need the aid. One of the unfortunate downfalls of legal aid and public interest work is that it's simply not possible to help every individual that seeks us out. But my hope is that I am able to be as holistic and effective as possible for the children and families that we can serve so that they can achieve the best all-around quality of life.  
GBLS: After law school in California, how do you like being back on the East Coast? When you are not at GBLS, what do you like to do? What are your hobbies or interests?  
DJP: I'm originally from Boston, born and raised, so there's truly no place like home! Experiencing law school in the beauty of San Francisco was amazing, but I'm super excited to be back home on the East Coast and starting my legal career helping my own community! When I'm not working, I love getting outside, sunset or moon/star gazing, cooking random feel-good meals, and binge-watching television with my partner!
Welcome home, Dinah! GBLS and the Children's Practice Group are thrilled to have you on board!
Client Story - Lupe's fight for benefits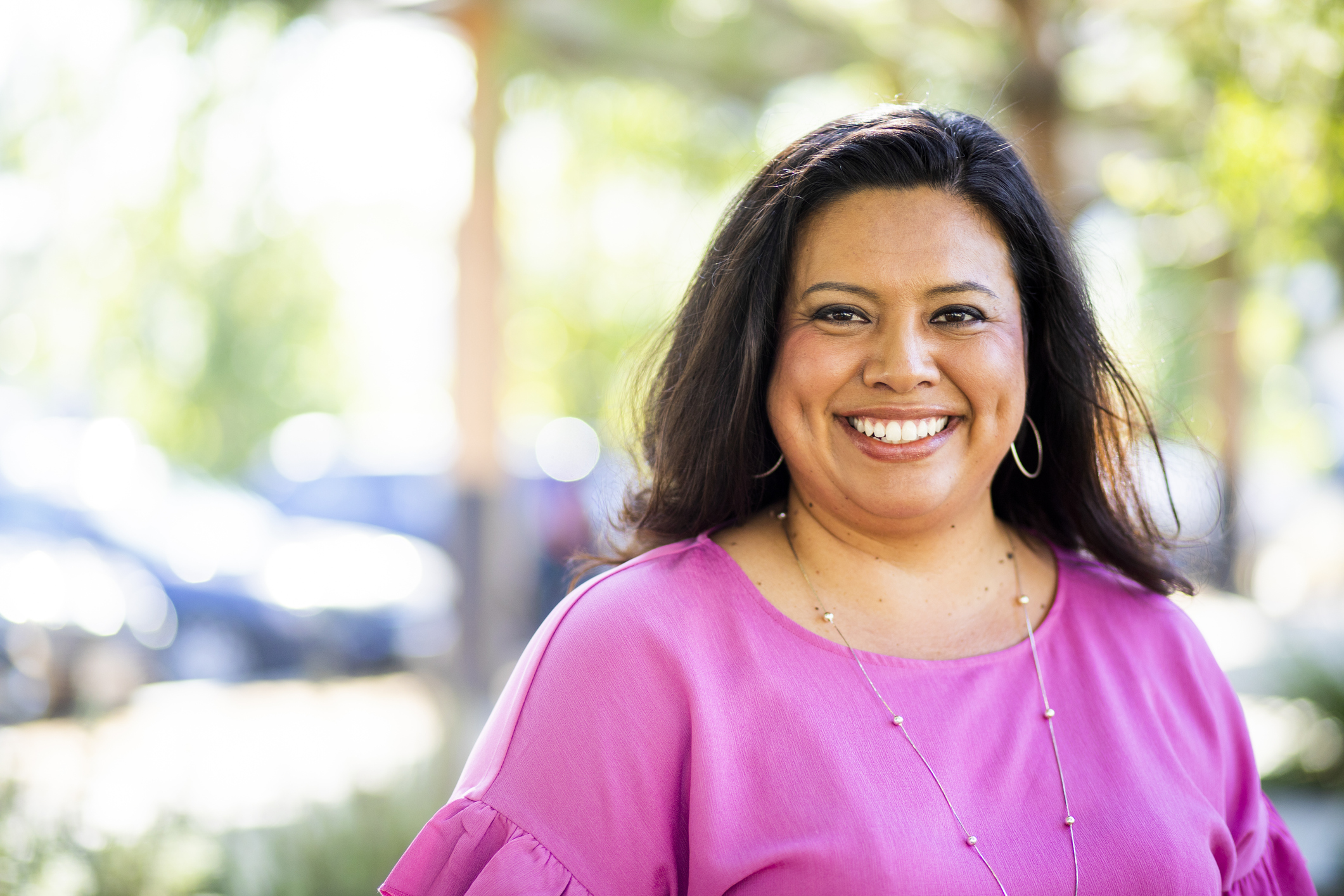 In January 2021, "Lupe," who is a single mother of a teenage daughter, was diagnosed with a uterine tumor. Lupe and her daughter are undocumented and thus had little hope of receiving pandemic stimulus payments, which would have allowed Lupe the freedom to take time off work for surgery and recovery to address her health. Lupe was in constant pain, but she continued to work full-time.
Luckily, Lupe contacted GBLS, and an attorney said she could help. The attorney helped Lupe and her daughter secure Social Security cards, which allow them to claim stimulus payments. Further, the attorney was able to secure work authorizations for Lupe and her daughter so they have security to take the time they need to take care of each other and themselves. Today, Lupe is using the stimulus money to cover her expenses while she recovers from a successful surgery.
ICYMI: 2020 Annual Report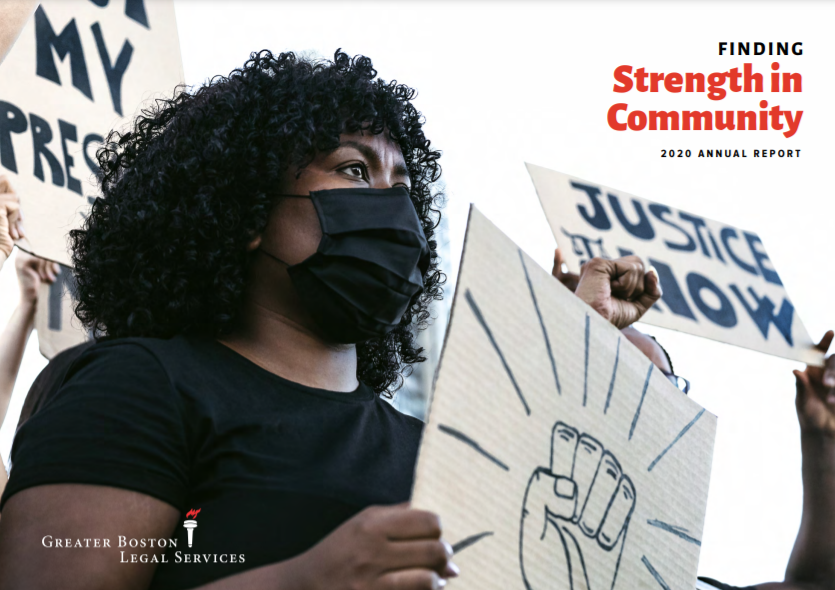 At GBLS' Annual Meeting, we shared our newly released 2020 Annual Report with supporters. Click here to see all that GBLS achieved last year, thanks in large part to the enduring support of our incredible community.
GBLS in the News
GBLS' attorneys and advocates are some of the best poverty lawyers in the country, providing valuable expertise to clients, community partners, legislators, and the public. Here are some of their recent newsworthy efforts and media moments: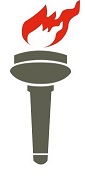 Greater Boston Legal Services provides free legal assistance in civil (noncriminal) matters to low-income families and individuals in the Greater Boston area, helping people access the basic necessities of life, including shelter, healthcare, and safety from abuse.
Please consider making a gift to GBLS to help make "justice for all" a reality for our most vulnerable neighbors. Thank you for supporting civil legal aid!
 Follow GBLS on social media and read more about our work in the community: