fall 2022 NEWSLETTER
November 2022
I hope you enjoy reading about GBLS' impressive recent work, new additions, a special anniversary celebration, and new phase of a longstanding community-centric program. The GBLS team – from staff to volunteers to community partners – continues to push for the dignity, rights, and necessities that our clients deserve. Together, we provide direct civil legal aid and impact advocacy that ensures that  families with children are stably housed, elders are able to access healthcare, and refugees have a permanent, safe place in our community, among other vital outcomes. As always, you are an essential part of this team. 
Please read on for updates on what we have been able to accomplish with your support, and how we can continue to build a greater Boston together. Thank you for being part of our team!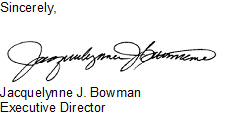 Asian Outreach's 50th Anniversary and New Beginnings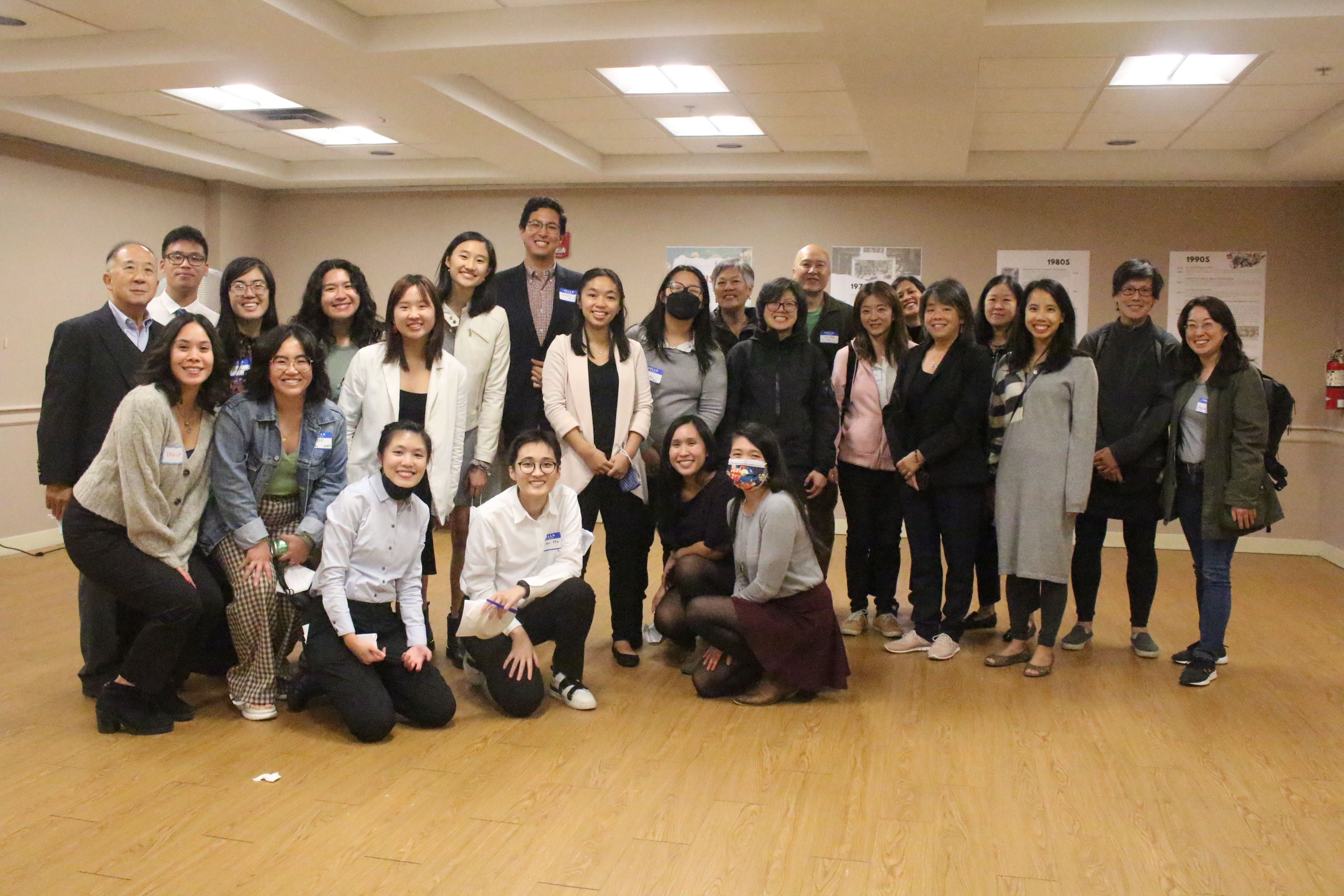 In the summer of 1972, a group of local law students saw immense legal needs in the Boston Asian American community and co-founded the Chinatown Outreach Project, the predecessor to GBLS' Asian Outreach Unit. Changing immigration policies, globalization, and gentrification impacted low-income Asian Americans in distinct ways, and Asian Outreach at GBLS became the legal arm of grassroots organizing in Boston's Asian American community and a catalyst for positive change. 
After 50 years of impressive legal work and community victories, to more accurately reflect the role that Asian Outreach plays in the community as a hub for legal assistance and advocacy, this special program is now called the Asian Outreach Center. The new name also reflects GBLS' new partnership with Asian American Legal Defense and Education Fund (AALDEF), positioning the Asian Outreach Center as a hub and a model for Asian American legal issues and solutions even beyond the Commonwealth of Massachusetts. Along with a new name, the Asian Outreach Center also has a new director in Senior Attorney Janet Vo.
These exciting new developments are made possible by the hard work and commitment of our staff, interns, volunteers, alumni, and community partners. In late September, we celebrated Asian Outreach's 50th anniversary and raised funds to help continue and expand the work with a festive gathering in Chinatown. Read more about the Asian Outreach Center's impressive history here, and donate today to support its future here.
Welcome New Fellows!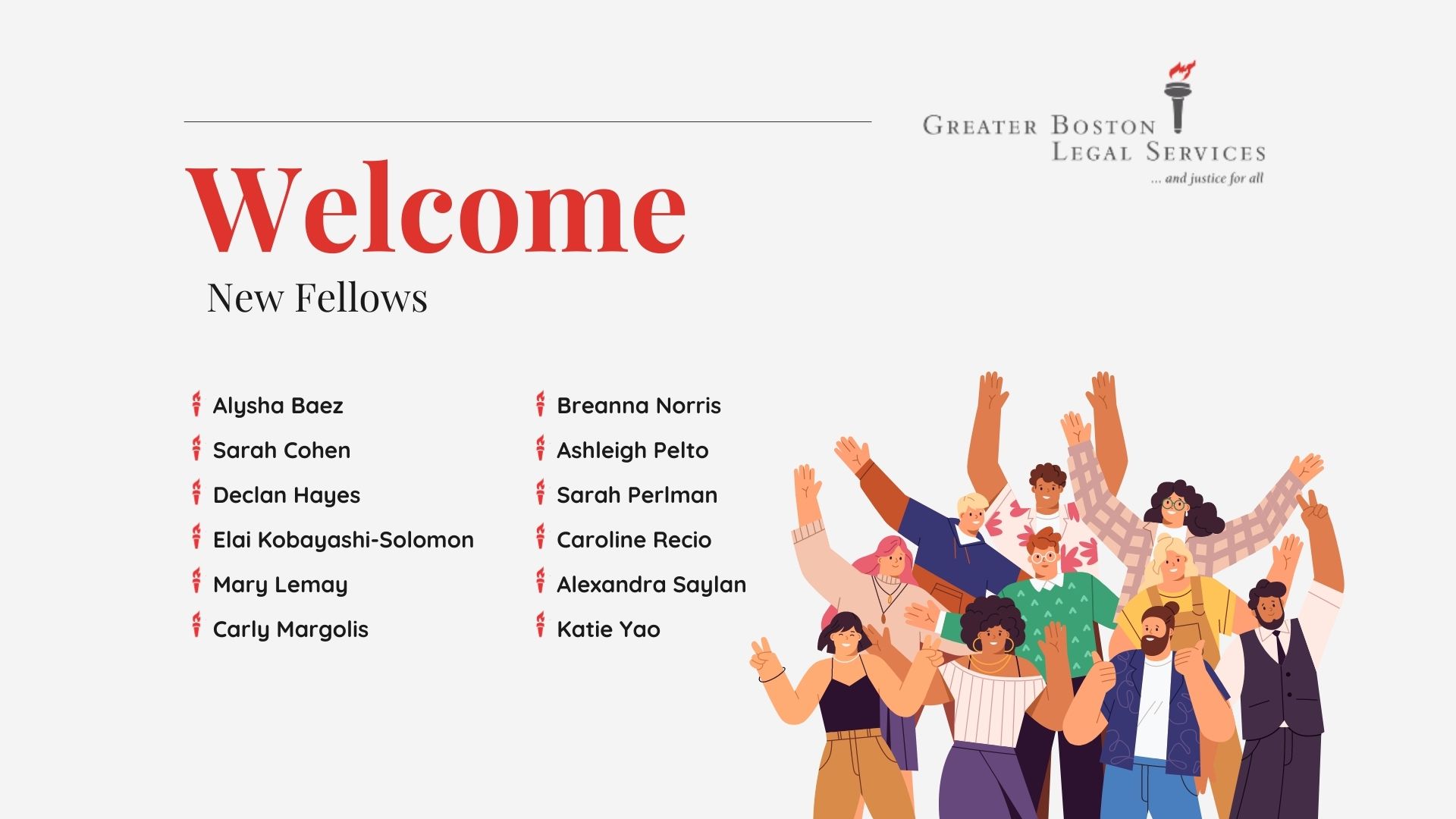 With the school year starting back up, we welcomed a number of new full-time fellows. We look forward to sharing more about some of their respective projects in the future. 
From Activities to Utilities: Finding Resources for Families with Children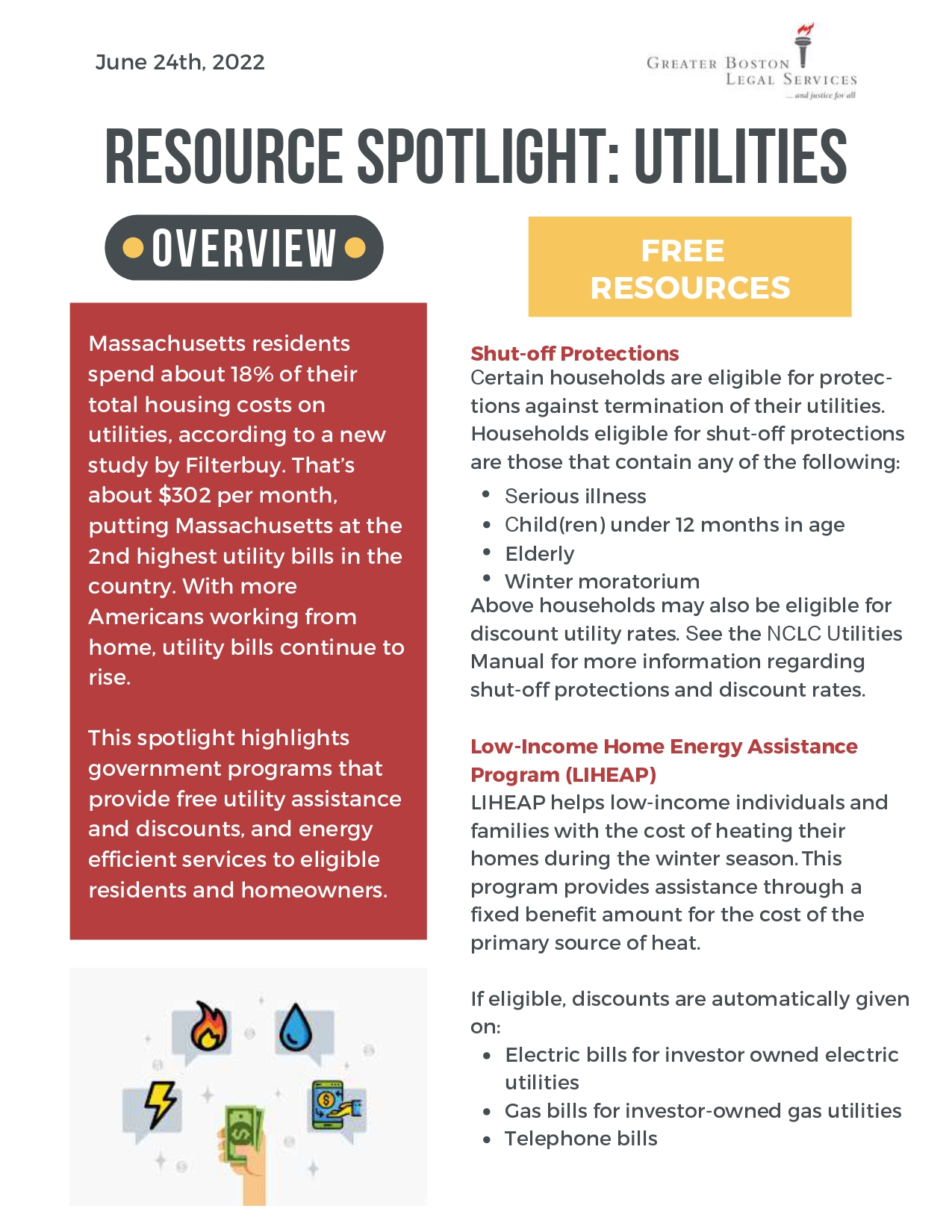 When Dinah Jean Phillipe joined GBLS as a Harmonix Fellow and GBLS' first-ever dedicated Children's Practice Group attorney, she knew she had a major project ahead of her, not only in representing her clients, but also in helping them to access essential resources for daily life. As Attorney Jean Phillippe recognized, "Once clients see you as a helper, they come to you for assistance with needs beyond their case." 
For many years. GBLS advocates had been adding to a resource database of necessary and often-requested items and services, such as diapers and mental health support, but Attorney Jean Phillippe knew that in order for these resources to be useful, someone had to organize them. As is often the case at GBLS, however, there was no one on staff with the capacity to take on such a time-consuming project in addition to their usual workload. So, Attorney Jean Phillippe decided to hire an intern. 
Flora Meng, an undergraduate student at Tufts University, spent this past summer working as an intern in the Children's Practice Group, supervised by Attorney Jean Phillippe. Flora's charge was to update and organize the 150+ different entries  in the resources database. She spent 10 weeks tirelessly reaching out to various community agencies to confirm their work and researching new resources for clients to make the database a more usable tool for advocates. Flora organized the resources into categories, then created resource "spotlights" to highlight the best resources in each category in easy-to-use handouts for clients. The result is a thorough, user-friendly resource database for advocates and clients alike. Thank you, Attorney Jean Phillippe and Flora, for helping GBLS' clients get the wraparound help they need!
Board Updates
On September 14th, members of GBLS' and Board of Directors and Corporation came together for the organization's Annual Meeting via Zoom. At the meeting, new members were elected to both the Board of Directors and the Corporation.
Welcome to new Board members Zachary Coseglia, Kurt Hemr, Ramon Herrera, Thomas Neumeier, and Jumaada Smith, and new Corporation members: Monica Halas and Vincent Pisegna. The Board also thanks the following departing directors for their service on the Board: Jillian Hirsch, Peggy Ho, and Vincent Pisegna. We are grateful for their service to GBLS' mission and clients!
GBLS Attorneys Work to Protect Elders from MassHealth Coverage Losses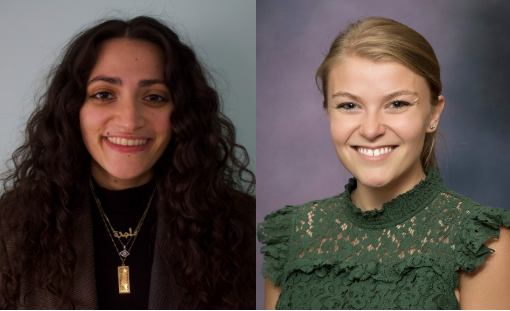 With the official ending of the federal public health emergency coming on January 1, 2023, GBLS advocates are preparing for a flood of  clients who may suddenly lose their MassHealth coverage. MassHealth's pandemic –related moratorium on coverage terminations is ending and a mandated redetermination process will impact an estimated 2.2 million MassHealth members.
Since the public health emergency was declared in March 2020, MassHealth has not been allowed to terminate or reduce healthcare benefits. This means that members did not lose coverage even if their incomes changed and their qualification for the program was not subject to review, because the need to maintain consistent healthcare coverage was so important during the peak of the pandemic. Now, to keep MassHealth, many members will have to return a review form and meet eligibility criteria. People who have turned 65 since March 2020 are the most at-risk, because the MassHealth eligibility criteria for adults 65 and older is stricter.  
GBLS attorneys Majda Abbas and Mary McGinley, working with other advocates, have been planning for the significant problems that the end of the federal public health emergency is likely to cause for adults aged 65+ due to the complexity of the review process. GBLS and community partners have been advocating with MassHealth for changes to ensure that individuals 65 and older do not lose their MassHealth coverage when the moratorium on terminations ends.  
Before the public health emergency went into effect, MassHealth members had to renew their coverage every year, but the application and renewal process became much more demanding once a member turned 65. People under age 65 can renew with a simple form, online or printed, and some easy-to-obtain documents, but when a MassHealth member turns 65, they have to reapply for coverage by submitting a 42-page application, in addition to verifications, which must be printed and mailed to the MassHealth office. The process is arduous and time-consuming, especially considering that the burden is placed on low-income elders.  
Attorneys Abbas and McGinley have been working with partner organizations and MassHealth to mitigate the anticipated fallout once the health emergency ends. One part of their response has included working to condense the renewal application for older MassHealth members from 42 pages to a more manageable 3-4 pages, however, a new renewal application has not yet been released. In addition, advocates are working to identify organizations to help individuals who need assistance in applying for or renewing coverage when the federal emergency ends. GBLS and others have also been working on outreach and community education, spreading the word through, for example, educational articles and informational flyers sent along with Meals on Wheels deliveries.   
"We are unsure of how many community members will be coming to us for assistance with the public health emergency ending, but the GBLS felt it was necessary to identify potential issues early on and create a plan of action to ensure that we can assist as many community members as possible," say Attorneys Abbas and McGinley.
In Case You Missed It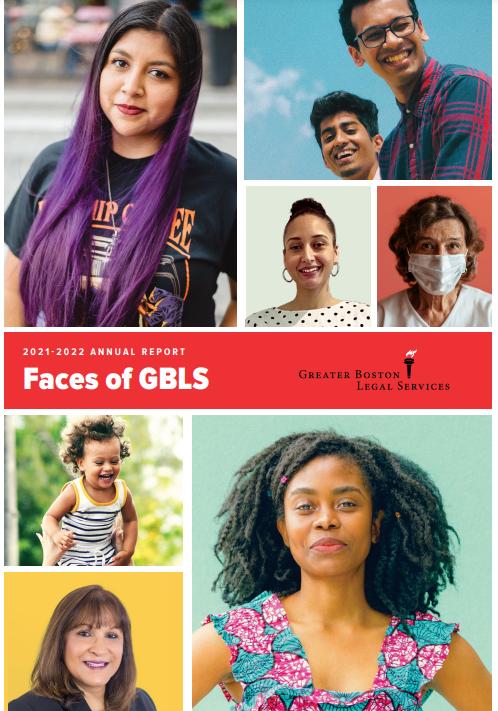 Did you get a chance to read our 2021-2022 Annual Report? Take a look at some of the incredible wins that our expert attorneys and paralegals achieved for clients last year. Click here to read about what we were able to accomplish with your support.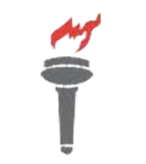 Greater Boston Legal Services provides free legal assistance in civil (noncriminal) matters to low-income families and individuals in the Greater Boston area, helping people access the basic necessities of life, including shelter, healthcare, and safety from abuse.
Please consider making a gift to GBLS to help make "justice for all" a reality for our most vulnerable neighbors. Thank you for supporting civil legal aid!